The Unknown Advantages of Peanuts and scrumptious recipes
In today's modern world, fancy diet names, internationally exquisite fruits and vegetables are often considered rich and healthy. If you look closely, some locally grown foods like peanuts have more food than the imported and expensive foods. Not sure about the peanuts? Then to know that unknown benefits of peanuts, Continue reading…
Some unknown benefits of peanuts
Improves memory:
Peanuts are rich in niacin or vitamin B3, which keep the brain working normally and improve memory. They also contain a flavonoid called resveratrol, which improves blood flow to the brain.
Boosts heart health:
Peanuts contain resveratrol, which helps fight heart problems. In addition, peanuts help lower levels of the bad cholesterol called LDL. These also reduce plaque in the blood vessels and inflammation in the body, which can lead to heart problems.
Promotes hair growth:
Another unknown benefits of peanuts It's loaded with proteins and amino acids that serve as an excellent source for better, faster hair growth.
Helps you lose weight:
Peanuts are rich in nutrients and induce a feeling of fullness when eaten as a snack. This will result in you eating less of other high-calorie foods and thus contributing to weight loss.
Helps improve fertility::
Consumption of foods containing folic acid is very important for women in order to give birth to a physically and mentally healthy baby. Peanuts are high in folate which not only promotes fertility but also ensures a safe and healthy fetus.
Related Causes After Infertility And Treatment With Natural Remedies
One of the unknown benefits of peanuts is control of blood sugar levels::
Peanuts are high in fiber and protein, while comparatively low in carbohydrates, which helps control blood sugar levels. Most importantly, it has a low GI (Glycemic Index) value due to which they do not increase sugar levels. Some researchers state that eating peanuts daily can help women with type 2 diabetes and obesity better control their blood sugar.
Healthy and glowing skin:
The resveratrol in peanuts helps reduce acne and pimples by preventing sebum oil from growing in the skin. In addition, vitamins C and E in peanuts help reduce wrinkles, fine lines, and signs of early aging. Regular consumption of peanuts protects your skin from free radical damage.
Delicious peanut recipes to try at home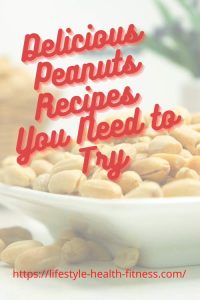 Peanut Tikkis:
ingredients
½ cup of roasted and powdered peanuts
½ cup of finely chopped spinach
5 tbsp wheat flour
½ cup gram of flour
2 ½ teaspoons of oil (for cooking and greasing)
1 teaspoon warm oil for kneading
1 tbsp lemon juice
1 ½ finely chopped green chillies
Salt to taste
Procedure
Take a large bowl, combine all the ingredients in it and turn it into a soft batter with a little water.
Now add warm oil and knead the dough thoroughly again.
Cut the dough into 8 equal portions and make flat round tikkis out of them.
Then grease a non-stick pan or tava with ½ teaspoon oil and cook each tikki until golden brown (add oil as needed).
Serve hot with green chutney or a sauce of your choice.
Peanut chikki / peanut bar
Iingredients
2 cups roasted peanuts (halves)
2 cups of chopped jaggery
Procedure
Add jaggery to a preheated aluminum kadhai and cook on a high flame for 2 minutes. Keep stirring.
Now turn the flame to low and cook for the next 3 minutes or until the jaggery turns into a thick foam and changes color.
Turn off the flame and continue stirring for a few seconds.
Now add the roasted peanuts and mix well.
Put the mixture on a greased platform and mix with a flat trowel.
Grease your hands and blot the mixture. Now smooth the mixture with a rolling pin to form a circle of approx. 275 mm.
After flattening, cut into equal squares with a sharp knife and let cool completely.
Store the chikkis in an airtight container to keep them crispy.
Thai peanut hummus
ingredients
A handful of roughly chopped peanuts
425 grams of rinsed and drained chickpeas
2-3 teaspoons of peanut butter
1 / 2tsp ground ginger
2 small cloves of garlic
½ teaspoon honey
1 tbsp olive oil
2 finely chopped green chilies
Handful of chopped coriander
Salt and pepper to taste
3-4 tbsp ice water
2 tbsp sriracha
2 chopped green onions
Procedure
In a food processor, add honey, siracha, ginger garlic, peanut butter, salt, pepper, and chickpeas and grind until broken.
Add olive oil and ice water to the running processor and grind until you get the consistency you want.
Now try the mixture and adjust the spices to your liking.
Put the mixture in a bowl, add the peanuts, coriander and spring onions and serve with tortilla chips.
Crispy Thai Peanut Chicken Salad
ingredients
½ cup chopped peanuts
2 cups coleslaw mixture
2 cups broccoli coleslaw
1 ½ cup of chicken
1 bunch of finely chopped green onions
1 cup of chopped carrots
½ cup of chopped red pepper
1 cup of Thai peanut sauce
1 whole lime juice
2 chopped cucumbers
½ cup of coriander
Procedure
Put all of the vegetables and chicken in a large bowl and toss them.
Now add the peanut sauce, lime juice and mix well.
Garnish with peanuts and serve immediately.
Spicy crock-pot chili peanuts
ingredients
680 grams of cocktail peanuts
¼ cup of melted butter
20-30 g chilli spice
Procedure
In a saucepan, add butter, peanuts, sprinkle the chili mixture on top and mix well.
Set the flame to low, cover the pot and cook for the next 2 hours
Remove the lid and cook on a high flame for the next 10-15 minutes. Your flavorful chili peanuts are ready.
Therefore, consuming peanuts in sufficient amounts daily not only contributes to overall physical health, but also helps reduce depression. Hope you are aware of that now unknown benefits of peanuts and will include it in your diet.
Reference:
https://krishijagran.com/health-lifestyle/groundnuts-what-are-the-benefits-and-side-effects-of-eating-peanuts/
https://www.tarladalal.com/recipes-using-raw-peanuts–847